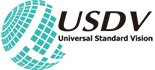 Precise & Auto Telecentric Image Measuring Instrument | USDV
Telecentric image measuring instrument manufacturer. Precise and auto type image measuring machines, and flash image measuring machine for vehicle bolt, bike component, car part, fastener and aerospace component industries with better measurement functions and more user-friendly products. USDV has implemented precision measurement in-process QC for aerospace and vehicle nut company, launched Telecentric Image Measurement instrument for the screw and shaft, which apply for first-part and in-process QC, and well recognized by the companies of aerospace, automobile, machinery, bicycle and other metal processing.

Assist customers to implement smart manufacturing through integrating with a robotic arm and measurement database.

Passionate about innovation of measurement tech. A trustworthy and valuable partner on QC value creating.

Fast and precise measurement of position, cylindricity, runout, coaxiality, R radius, pitch of thread and trilobular screw.
New Application
Based on the detection of the center point of the shaft, the geometric measurement result is more objective and reasonable than the contact gauge. It works fast and accurate.
Read More
Our intelligent measurement solution connected to user's ERP or SPC system is very beneficial to process management. It offers to upload control information, download measurement data and browse historical data.
Read More
All of the Products